Note: If you pick a different list entry action in the settings, it will not appear the title information. You can still slide right to left to access the swipe cell with this icon (

) to view title information.
To view information about a title on a list, just tap on an entry in your library.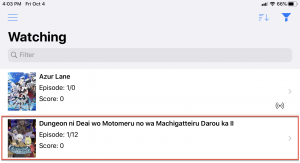 The app will load the information associated with the title you just tapped on. From there, you can edit or add an entry and other information related to the title.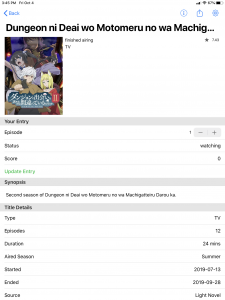 Options
The option button on the top right-hand corner allows you to do the following:
View on (List Service Name) – Allows you to view the title's page on the current service you are using (e.g.: AniList or Kitsu)
Share – Allows you to share the title and the title page's URL to other iOS applications
Advanced Edit – Allows you to edit other fields besides Episodes/Chapters/Volumes/Status/Score.
Refresh Title Info – Allows you to refresh the title information that is cached. (See Settings section for more information on this feature)
Note: On the iPad, it will show as individual icons in the same order, except in split screen view.