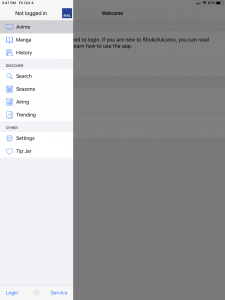 You can also change the service you want to use by tapping "Service" on the sidebar. Currently, you can choose from AniList, Kitsu or MyAnimeList.
To logout, just tap logout. To change accounts for AniList or MyAnimeList, you have to logout from the site in Safari to login into a different account.
Note: You do not have to login to use this application. You can still browse titles, view reviews/reactions, and view character and staff information without logging in. However, you won't be able to manage your list. This does not apply to MyAnimeList.