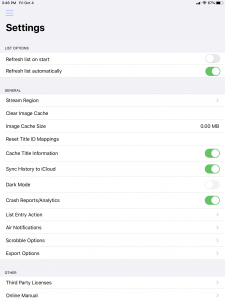 The settings view allows you to manage the application settings.
List Options
Refresh list on start – When enabled, the app will refresh your list when you launch the program.
Refresh list automatically – Your current service's list will refresh periodically when the program is active or in the background every 15 min.
General
Stream Region – Selects the region for stream data (used to display what legal streaming sites you can watch a certain series at).
Clear Image Cache – Allows you to clear the image cache.
Image Cache Size – Shows the size of the image cache.
Reset Title ID Mappings – Allows you to reset the title id mappings used by the application
Cache Title Information – When enabled, the app will cache title information for faster loading.
Sync History to iCloud – Syncs your update history across all your devices connected to the same iCloud account
Dark Mode – Allows you to switch between the light and dark theme (does not apply to iOS 13/iPadOS 13 or later)
Crash Reports/Analytics – If the app crashes, when enabled, crash reports are sent to the developer to improve the app.
List Entry Function – Modifies the behavior when to tap a list entry. You can choose the following

View Title – Views the title information when tapped.
Advanced Edit – Shows the Advanced Edit view, showing all the fields you can update
Show Entry Options – When tapped, all the options will be viewed for the entry. To see the list of swipe cell actions, see topic Managing Entries.

Air Notifications – This option allows you to enable Air Notifications, which notifies you of newly aired episodes that are on your list. You can also specify what list to base your notifications off of along with what titles to receive notifications for.
Scrobble Options – This section relates to the Scrobble functionality for Shukofukurou. These options allows you to clear the scrobble cache, update anime relations (for split seasons and zero episodes), and reset Scrobble Data.
Export Options – You can set what statuses you want to set update on export for MAL XML import.
Other
Third Party Licenses – Shows the licenses for open source components used in this app.
Online Manual – Views the online manual for Shukofukurou for iOS
File a Bug Report – Allows the user to file a bug or issue on Github
View Patrons – Views the list of names of patrons who are supporting the development of our apps
Version – Shows version information.